Due to coronavirus (COVID-19) concerns, The Connection is taking the precautionary measure of postponing all Connection training sessions through mid-April. When we are able to reschedule sessions, we will contact registrants to provide updated information. Thank you for your understanding as we take the measure necessary to ensure the well-being of our participants and staff. 
The Connection provides quality training and professional development designed to promote excellence in the human services field. Our Spring/Summer catalog is now available and enrollment is open for all sessions.
Click the cover image below to browse the full training catalog — which includes important information about our policies and registration, and also includes descriptions and presenter information. To register, click on the course titles below and select a training date.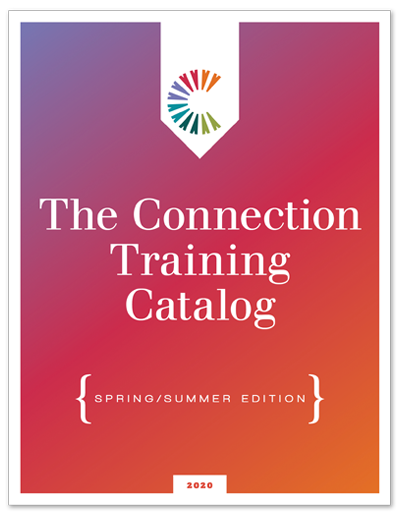 Professional Development Courses:
Clinical Best Practice Courses:
Microsoft Training Courses:
Microsoft Excel Part 1: Getting Started with the Basics
Microsoft Excel Part 2: Exploring Data and Creating Reports
Leadership Development Courses:
Questions about our trainings?
Contact Nikita Joslyn, Training & Staff Development Specialist at 860 343-5500 x2110