The Connection Institute for Innovative Practice, the research component of The Connection, a statewide human services agency and Wesleyan University co-sponsored an inspirational conference on November 7th and 8th entitled "Narrative in the Age of Distraction." The conference attracted health care professionals, writers, academics, and students from across the country.
The conference's focus was on the role and importance of narrative in an age of increasing technological and attentional distractions. The conference had two "tracks."  The first, "Healing Letters," addressed the health and psychological benefits of narrative.  Speakers in this track included scholars and healthcare practitioners who use narrative techniques in their practice and/or research.  Speakers included Shadd Maruna, Ph.D., a criminologist; Arthur Frank, Ph. D., a cancer survivor, sociologist, and author of The Wounded Storyteller; Michael Rowe, Ph. D., of Yale University; Tom Barber, M.D., of Boston University Medical School; Michele Klimczak, MSW, of The Connection; Judi Hannan, author of Motherhood Exaggerated; and Jimmie Briggs, award-winning journalist and human rights advocate.
The second track, entitled "Narrative in the Age of Twitter," featured leading practitioners of the narrative arts, including publishers, long-form journalists, novelists, and screenwriters who discussed their adherence to their craft in an increasingly fragmented and distracted marketplaceParticipants in this track included Lisa Weinert of Lisa Weinert Consulting; Mary Gaitskill, author and National Book Award finalist; John McElwee of The New Yorker; Uzoamaka Maduka of The American Reader;  Jennifer Gonnerman, award-winning journalist and author; Guy Story of Audible; Cami Delavigne, screenwriter of Blue Valentine; and Molly Barton of Penguin Random House.
Rita Charon, M.D., Ph.D., of Columbia University, was the Conference's keynote speaker. Her talk was named the Kätchen Coley Memorial Lecture, in honor of Kätchen Coley, a co-founder of The Connection, who passed away recently.
To view the conference flyer click the thumbnail below: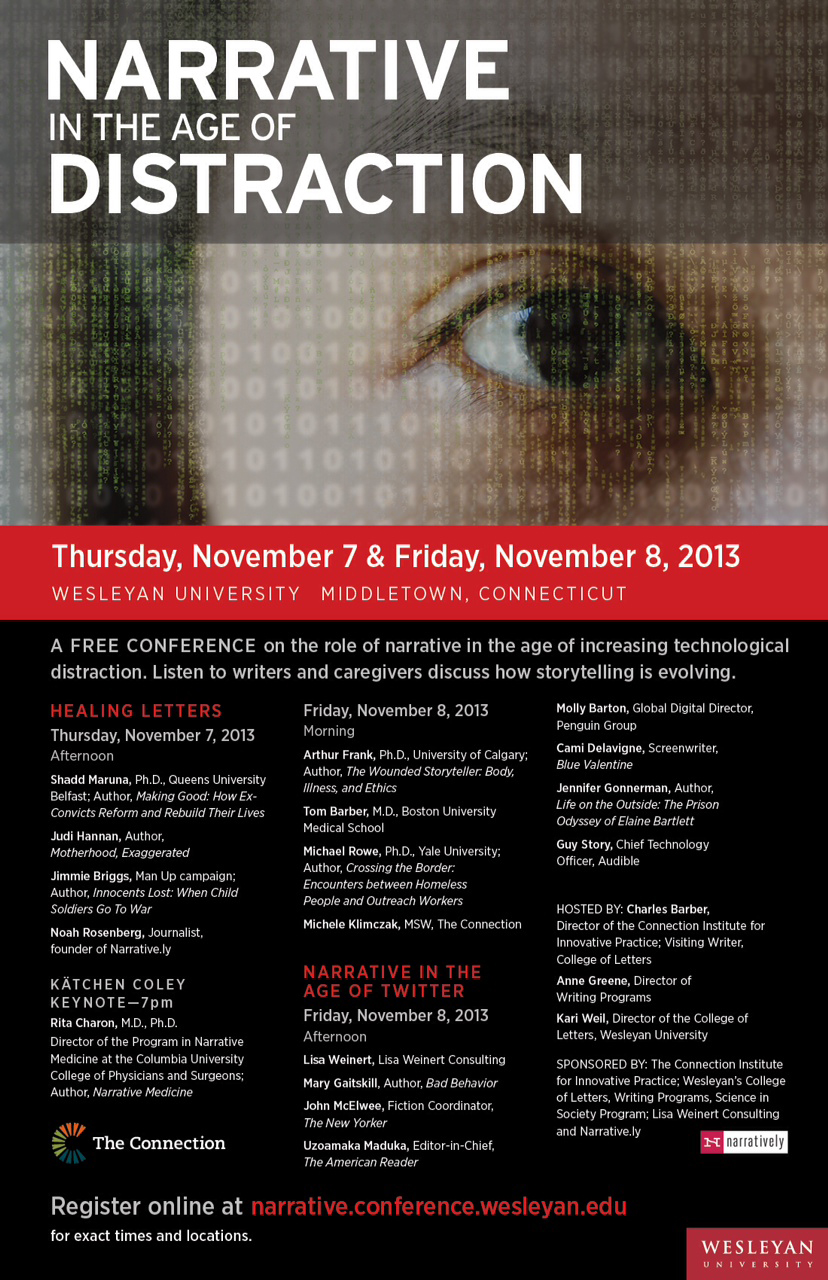 For questions or information related to the conference, please contact Jesse Jacobson at jjacobson@theconnectioninc.org.