The Connection will provide case management services to residents in need at Bridgeport Neighborhood Trust's newest affordable housing development.
On Friday, January 15, Federal, state, and local officials gathered at 1803 Stratford Avenue in Bridgeport to celebrate the grand opening of the Milestone Apartments, a new, 30-unit permanent supportive housing development designed for low-income adults with special needs and with a particular preference for veterans in Bridgeport's East End.
Built by affordable housing developer Bridgeport Neighborhood Trust (BNT), Milestone will help revitalize the neighborhood. The first floor of the complex has 9,000 square feet of commercial space that will be home to a new early learning center operated by Action for Bridgeport Community Development, Inc. (ABCD).
 The project was financed by a grant approved from the Interagency Committee on Supportive Housing under the state's Permanent Supportive Housing Initiative for the City of Bridgeport HOME funds, financing from Corporation for Supportive Housing, LISC, and Wells Fargo Bank. BNT has a long-standing relationship with the City of Bridgeport and has a direct grassroots connection with the East End Neighborhood Revitalization Zone (NRZ), civic groups and the various governmental entities in the City.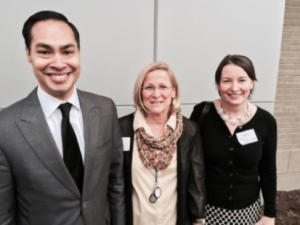 Photo: HUD Secretary Julian Castro with Director of Housing Development Betsy Cronin, and Director of Homeless Outreach Helen Lavin McAlinden
(Ribbon cutting photo) Front row, from left: Bridgeport Neighborhood Trust Board Vice President Kim Bianca Williams, U.S. Senator Chris Murphy, State Representative Jim Hines, U.S. Senator Dick Blumenthal, HUD Secretary Julian Castro, Bridgeport Neighborhood Trust Executive Director Liz Torres, Bridgeport Mayor Joe Ganim, and Department of Housing Commissioner Yvonne Klein.